Collection Highlights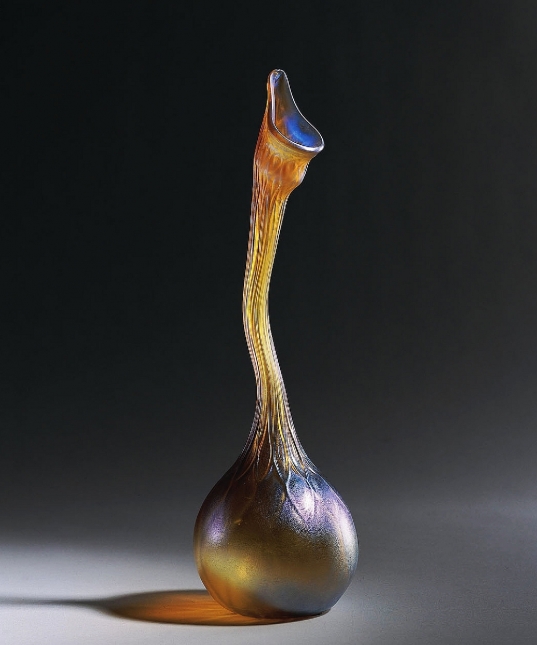 Vase, c. 1894
Rosewater sprinkler
Blown glass
Tiffany Glass and Decorating Company, New York City, 1892–1900
Marks: o4163
Paper label: TIFFANY FAVRILE GLASS REGISTERED TRADE MARK / [conjoined LCT]
H. 17 in.
(66-013)
Audio Guide

Louis Comfort Tiffany's (1848–1933) rosewater sprinkler vase in iridescent amber glass was inspired by the traditional rosewater sprinklers of Persia and other countries then associated with the Orient. Rosewater was used for centuries in the Middle East in food preparation as well as for cosmetic and medicinal purposes, and the containers became works of art in themselves. At the turn of the twentieth century, international trade broadened the visual vocabulary of the world's art centers and informed the work of Art Nouveau designers. The West especially embraced the shapes, motifs, and stylized floral decoration found in Islamic art. Tiffany's rosewater sprinkler is an elegantly exotic gooseneck shape that perfectly expresses the lively line for which Art Nouveau is so well known. By interpreting and adapting traditions from different cultures and periods, designers such as Tiffany redefined design.