Collection Highlights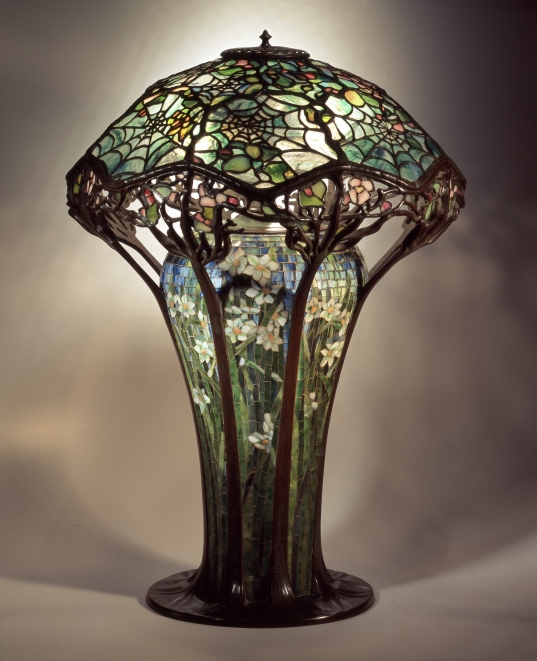 Library lamp, c. 1900
No. 146, Cobweb design shade, mosaic floral base [oil lamp conversion]
Leaded glass, mosaic, bronze
Tiffany Studios, New York City, 1902–32
H. 30 in.
(62-020)
Audio Guide

Among the many exquisite Tiffany lamps in the Morse collection, the Cobweb library lamp is likely the most rare. Fewer than ten examples are known to exist today. The lamp incorporates an extremely complex leaded-glass shade on an elaborate mosaic base, making it much more difficult to produce than the typical Tiffany lamp. At $500 in 1906, it also sold for nearly four times the average lamp. The shade is composed of flowers and eight spider web medallions, each of differing configuration and glass. Supported by bronze branches, it forms a canopy over the lamp's mosaic base, a vessel for holding fuel oil that is covered with clusters of white narcissus in full bloom. Spiders and other insects were popular subject matter for nineteenth-century artists such as Louis Comfort Tiffany (1848–1933) who were inspired by Japanese art. Featured on the cover of the company's 1904 lamps catalog, the Cobweb lamp brilliantly fulfills Tiffany's vision of transforming a utilitarian object into a unique expression of art.