Collection Highlights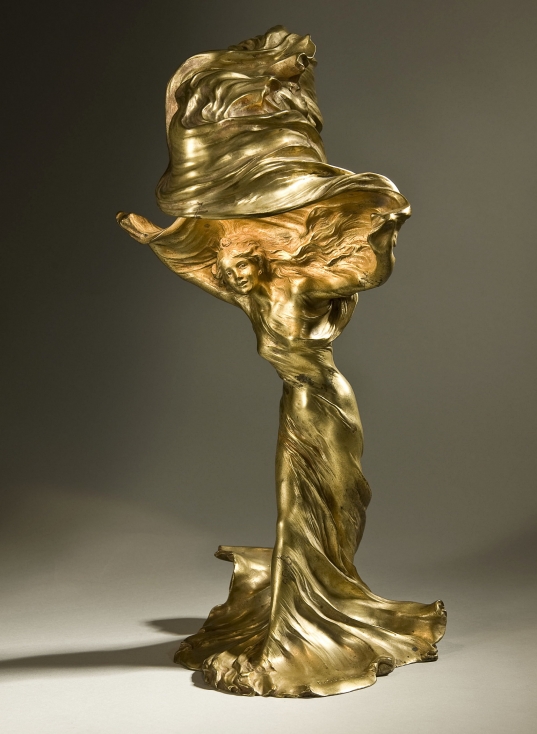 Table lamp, c. 1896
Loïe Fuller design
Bronze
Raoul-François Larche, French, 1860–1912
Maker: Siot-Decauville, Paris, 1860–c.1925
Marks: RAOUL LARCHE / U / SIOT • DECAUVILLE • / FONDEUR / PARIS / I 996
H. 18 1/2 in.
(MET-002-69)
Audio Guide

American-expatriate Loïe Fuller (1862–1928) danced her way into Parisian hearts in 1892 at the cabaret Folies Bergères and became the muse of many Art Nouveau artists, among them Raoul-François Larche (1860–1912). The French sculptor captured the mesmerizing quality of the performer's dance in this bronze table lamp currently on view in the Museum's exhibition Art Nouveau in Europe and America. Fuller festooned herself with yards and yards of silk, which she would manipulate with wands sewn to the fabric. The organic forms and swirling lines that Fuller created with cloth were enhanced with projected colored lights. Larche's table lamp shows the dancer twisting silk above her head with outstretched arms. Balancing the volumetric drapery overhead is an organic pool of fabric below. Although the amount of fabric may seem overdone, it is an accurate representation of Fuller's dance attire—one of Fuller's costumes for an 1895 dance featured 1,500 feet of cloth, with almost 300 feet of that being at the hem. Larche cleverly manipulated electricity in the Fuller lamp. Two light bulbs are encircled by the swirling, sculpted fabric above the dancer's head, while the wiring for the lamp is hidden in the interior, running down the length of Fuller's body. Electricity and Fuller are fused together here, just as they were in her dramatic performances. Learn more about this lamp on the Museum's audio tour.