Collection Highlights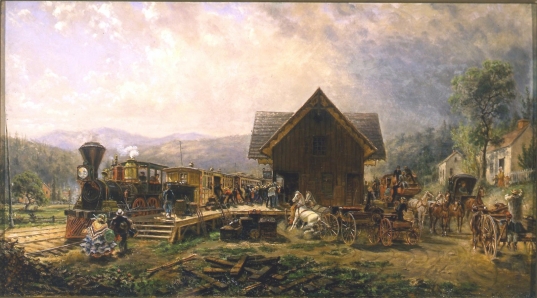 9:45 A.M. Accommodation, Stratford, Connecticut, April 1864
Oil on wood panel
Edward Lamson Henry, American, 1841–1919
Signed, lower right: E. L. Henry. 64
Signed, reverse: Edw. L. Henry, April 1864
12 1/2 x 20 in.
(P-102-88)
Audio Guide

The story behind Edward Lamson Henry's "9:45 A.M. Accommodation" is truly a tale of two paintings. In 1864, Henry (1841–1919) painted this scene of a bustling train depot, suggesting vividly all that was good and challenging about the industrialization of America. A couple of years later, John Taylor Johnson (1820–1893)—then president of the Metropolitan Museum of Art in New York City—asked Henry to paint a second version, which has since been reproduced on prints, cards, calendars, and more. Hugh F. McKean, director of the Museum from its founding in 1942 until his death in 1995, wrote that Henry's painting "has won the hearts of many Americans. They like Henry's optimistic view of America; they like the charm of the diamond stack (which kept sparks from setting the woods on fire); they admire the skill the 23-year-old South Carolinian displayed when he put so much into so little space so beautifully.