Collection Highlights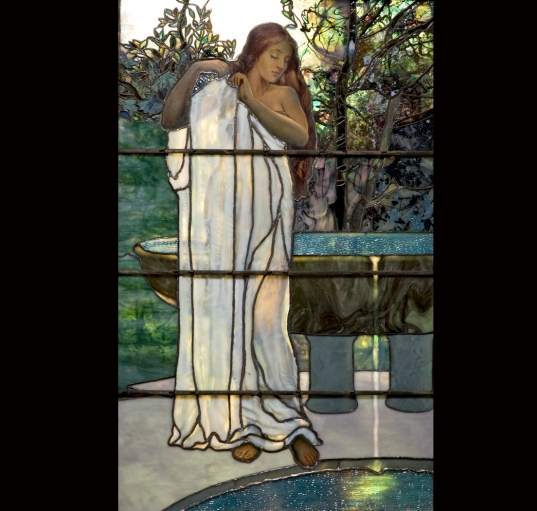 Window, c. 1894
Aurora
Leaded glass
Tiffany Glass and Decorating Company, New York City, 1892–1900
Designer: Will H. Low, American, 1853–1932
56 x 35 in.
(66-004)
Audio Guide

Around 1894, Louis Comfort Tiffany (1848–1933) created a window based on Will H. Low's painting of Aurora, the Roman goddess of dawn. Low was an accomplished New York illustrator and muralist who designed a number of high-profile windows for Tiffany. In the Aurora window, the purplish-rose sky and the maiden's red hair and a rosy complexion suggest the theme of early morning. Tiffany's reproduction of Low's painting is a perfect example of the way he accomplished in glass something that would be impossible in a two-dimensional medium such as painting. For his dazzling multidimensional interpretation of Low's design, Tiffany used a technique called plating—placing one piece of glass upon another—to create the painterly effects of light and shade. The window is four plates thick in some sections. Plating is used to give the impression of a tiny stream of water flowing from the fountain to a pool below and also to chastely reveal the figure's sunlit form. Low's Aurora painting is in the collection of the Metropolitan Museum of Art. Following a painstaking and lengthy period of conservation, the Aurora window has made a brilliant return to the galleries in the Morse exhibition Revival and Reform—Eclecticism in the 19th-Century Environment.