Collection Highlights
Previous
Next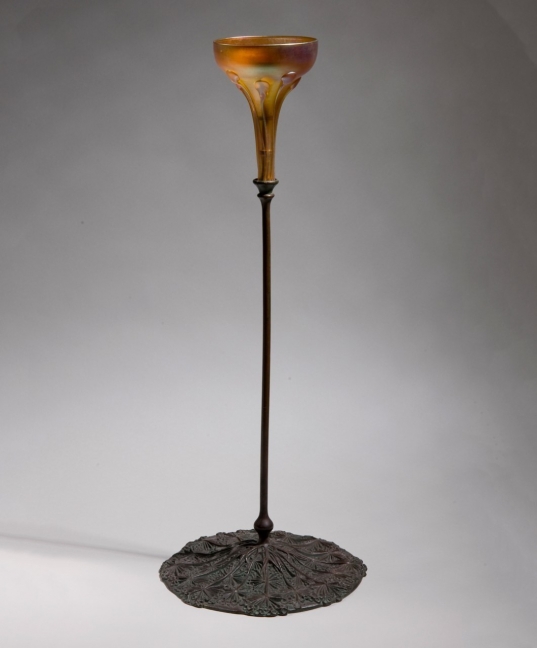 Candlestick, c. 1902
No. 1308, 18 in. single Wild Carrot design base, Merovignian [sic] design top
Bronze, blown glass
Tiffany Studios, New York City, 1902–32
H. 21 in.
(60-002)

This blown glass and bronze candlestick from Tiffany Studios uses the wild carrot plant (also known as Queen Anne's lace) as inspiration for its design—the base of the piece is shaped to resemble the Queen Anne's lace flower. The wild carrot plant was a popular Tiffany motif. From an account of the 1904 St. Louis Exposition, a jeweled hair ornament designed by Louis C. Tiffany (1848–1933) is described as showing the plant's flower "in the full perfection of bloom" where "in every instance each petal is worked out individually in minute detail." Tiffany Studios exhibited other interpretations of the wild carrot flower at the St. Louis Exposition, including a clock face inlaid with mosaic. Wild carrot designs from Tiffany Studios in bronze and glass have been attributed to both Clara Driscoll (1861–1944) and Lillian Palmié (1873–1944). In A New Light on Tiffany, it is noted that Driscoll "designed a number of objects featuring the wild carrot," including an inkstand "shaped like the unopened floret." In a letter from 1902, Driscoll herself wrote that "Lillian Palmié was making a candlestick out of the wild carrot in wax" which was to be "hammered into metal," suggesting this beautiful Queen Anne's lace design may have originated in Tiffany's enamel department. Here, Palmié studied botanicals closely and provided her exquisite and faithful renderings in a variety of media to other departments.