Collection Highlights
Previous
Next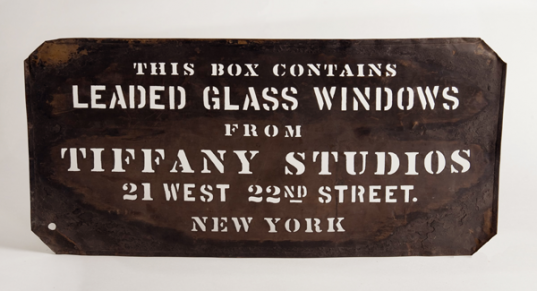 Stencil, c. 1915–20
Copper
Tiffany Studios, New York City, 1902–32
Perforated: THIS BOX CONTAINS / LEADED GLASS WINDOWS / FROM /TIFFANY STUDIOS / 21 WEST 22ND STREET. / NEW YORK
9 5/8 × 19 1/8 in.
(64-014)

Louis Comfort Tiffany's vast creative enterprise operated under various names through the years and at different locations in New York City. The address displayed on this copper stencil used to mark crates for shipping leaded-glass windows is significant in chronicling both Tiffany Studios' growth and eventual demise. It will be on view in Stories from the Archives—Louis Comfort Tiffany and His Studios. The address in pierced lettering was the service area for the workshops Tiffany kept at 46 West Twenty-Third Street. Tiffany leased the space from Stern Brothers Department Store. The enormous Renaissance Revival building, today a Home Depot, is known for the elaborate cast-iron façade on its 1892 addition. For many years, Tiffany's flagship store on Madison Avenue also housed workshops in back areas. By 1918, the loss of a lease at 347–355 on Madison had forced the company to relocate its showrooms into a smaller building on the avenue. Tiffany moved the workshops producing leaded glass, mosaics, and church decoration to the West Twenty-Third Street location. After its 1932 bankruptcy, Tiffany Studios was reorganized as the Louis C. Tiffany Studios Corporation. The Tiffany flagship store was closed but sales continued at the West Twenty-Third Street facility until 1938, even after its founder's death five years earlier. The liquidation of Tiffany's stock was held on that site, marking the final chapter in the story of Louis Comfort Tiffany's studios.