Collection Highlights
Previous
Next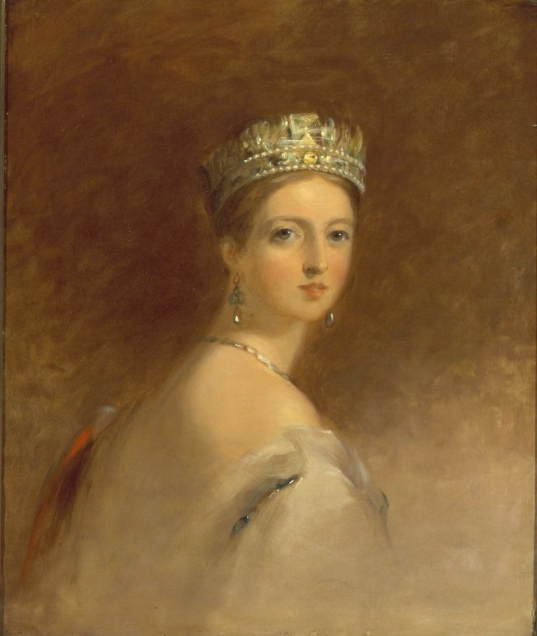 Study of the Queen Victoria, 1871
Oil on canvas
Thomas Sully, American, 1783–1872
Marks: Copied from my original study of the / Queen Victoria painted in 1838 / IB 1871 / (Thomas Sully) / August / TS
30 1/4 x 25 1/4 in.
(P-015-86)


In about 1988, Hugh McKean, the Morse Museum's first director, invented the Art Machine, a pre-digital educational device that consisted of this work of art, Study of the Queen Victoria (1871) by the American artist Thomas Sully (1783–1872); a large wall clock; a comfortable leather chair; a photocopied instruction manual; and a donation box. He installed the painting and other items in a small former janitor's closet sandwiched between two small galleries. The user was invited to sit in the chair and refer to the wall clock over the painting to time each step in a sequence of specific visual experiences.
"The Art Machine is another way of looking at art," according to McKean's manual, "an alternative to hurrying past rows and rows and rows and rows of pictures hanging in museums. It operates on the theory that what art offers the viewer depends partially on what the viewer brings to art; that time is an important factor in understanding art; that since art is always someone trying to say something, we must know the language if we want to get the message."
About Sully's famous portrait, McKean writes in part, "Victoria, wearing a crown and sitting alone in soft brown space, a device which throws all attention on her, looks over her shoulder with considerable charm."
The Art Machine is the clearest and most delightful manifestation of the educational mission of the Morse. In the intervening years, technology has changed the way we communicate, and the number of visitors to the Museum has grown manyfold. But the values embodied in The Art Machine—the educational imperative and the commitment to providing an experience with original art objects—continue to define the Museum.