Membership
You are invited to become a member of the Morse Museum to learn more about our exciting collection, to participate in a variety of informative programs, and to enjoy time with others who are bound by their mutual appreciation for art and the educational mission of this Museum.
Membership Privileges
• Annual free admission to the Museum
• Guest passes for friends and family members
• Invitations to lectures, films, concerts, art-related trips, gallery receptions for special exhibitions and other special events
• Subscription to the Museum newsletter
• Ten percent discount on Museum Shop items, 20 percent on Member Appreciation days
• Volunteer opportunities
Basic Memberships
Student or Teacher (with ID): $10
Individual: $20
Family: $30
Supporting Memberships
Amounts in excess of the basic memberships will be applied to the purchase of additional works of art for the collection through the Morse Museum Acquisition Fund. The Museum maintains three levels of supporting memberships.
Contributing: $50
Benefactor: $100
Sustaining: $1,000
Join Today
Fill out a membership application or a gift membership application today!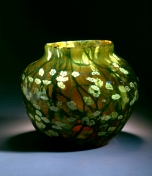 Vase,

c. 1902
Exhibited: Prima Esposizione Internazionale d'Arte Decorativa Moderna, Turin, Italy, 1902
Paperweight
Blown glass
Tiffany Studios, New York City, 1902–32
(66-047)