Museum Timeline
The Morse Museum, which began its life as a small museum on the Rollins College campus organizing shows of loaned objects, is today home to the world's most comprehensive collection of works by American designer and artist Louis Comfort Tiffany (1848–1933). Its collection, including other art from the late 19th and early 20th centuries, was built over five decades by Jeannette Genius McKean, the Museum's founder, and her husband, Hugh McKean, the Museum's visionary first director. The Museum's history includes two moves, two major expansions in its current location on Park Avenue, and more.
1942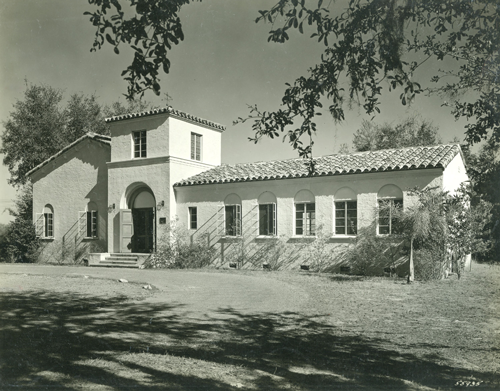 Jeannette Genius founds the Morse Gallery of Art on the campus of Rollins College, naming it in memory of her grandfather, industrialist and philanthropist Charles Hosmer Morse. It opens on February 17 with art professor Hugh F. McKean as the first director.
1955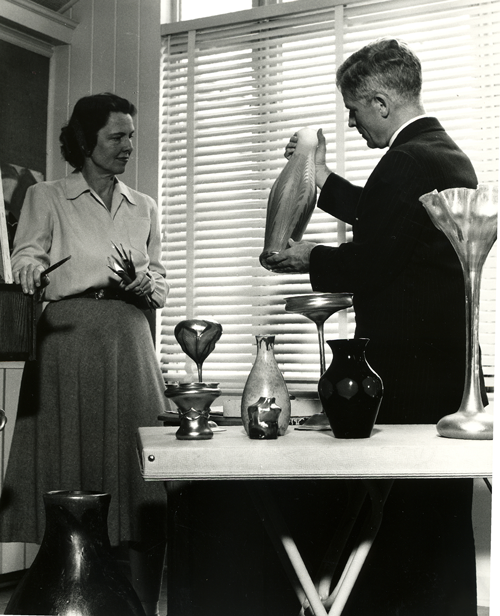 Jeannette and Hugh McKean (married in 1945) organize Works of Art by Louis Comfort Tiffany, the first significant exhibition of the artist's work since his death. The success of this exhibition sets the McKeans on the course that will make the Morse the world's leading repository of the art of Louis Comfort Tiffany.
1957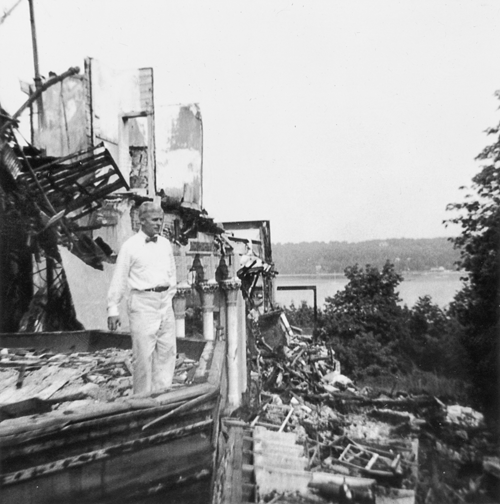 The McKeans travel to Louis Comfort Tiffany's burned Long Island estate, Laurelton Hall, and save all they can.
1976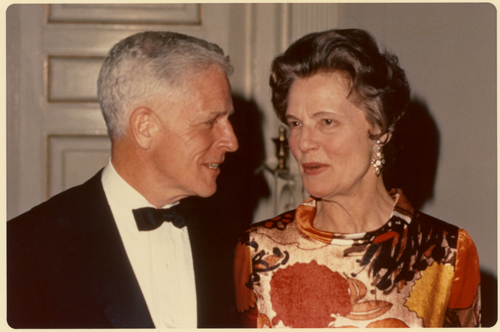 The McKeans create the Charles Hosmer Morse Foundation, which with additional funding from the Elizabeth Morse Genius Foundation established by Jeannette in memory of her mother, supports the Museum.
1978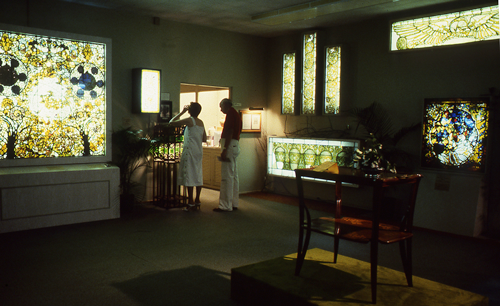 On February 1, the Morse Gallery of Art opens to the public in a new home at 151 E. Welbourne Avenue in downtown Winter Park.
1980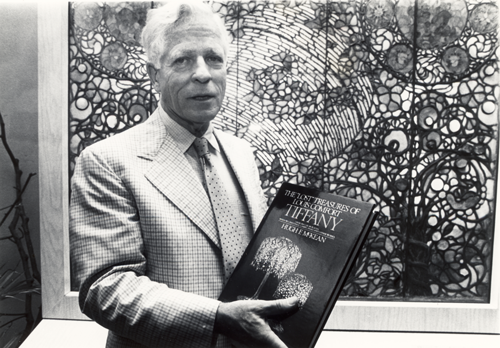 Hugh McKean's book The 'Lost' Treasures of Louis Comfort Tiffany is published by Doubleday, advancing knowledge and appreciation of Tiffany on a national scale.
1987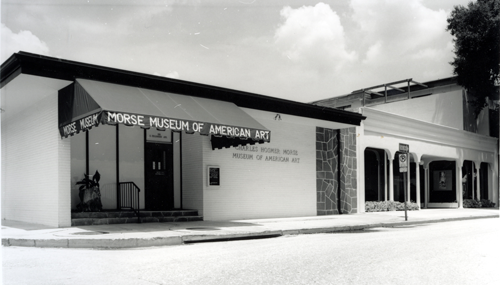 On May 20, the Morse Gallery of Art officially changes its name to The Charles Hosmer Morse Museum of American Art.
1995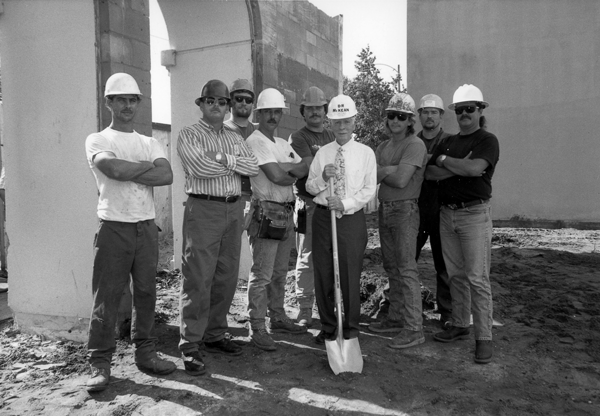 On July 4th, the Museum opens at its current location, 445 N. Park Avenue.
1999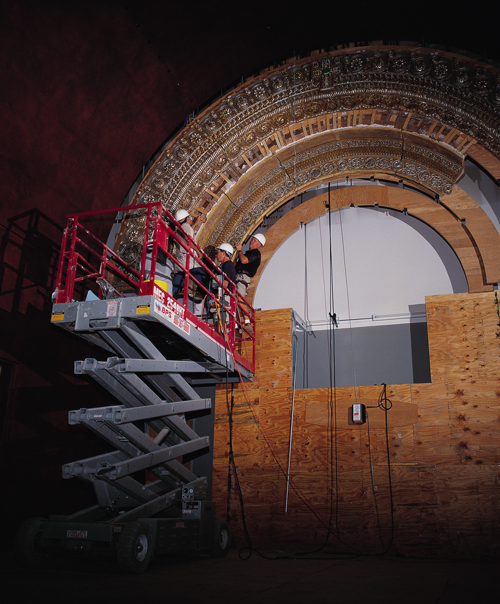 In April, the Museum opens Louis Comfort Tiffany's chapel interior from the 1893 World's Columbian Exposition in a 4,300-square-foot expansion.
2011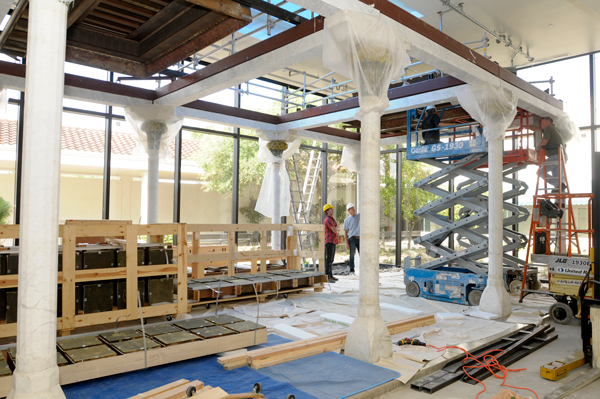 On February 19, the Museum opens a 12,000-square foot wing to provide the first permanent installation of surviving materials from Louis Comfort Tiffany's Long Island estate, Laurelton Hall.
2017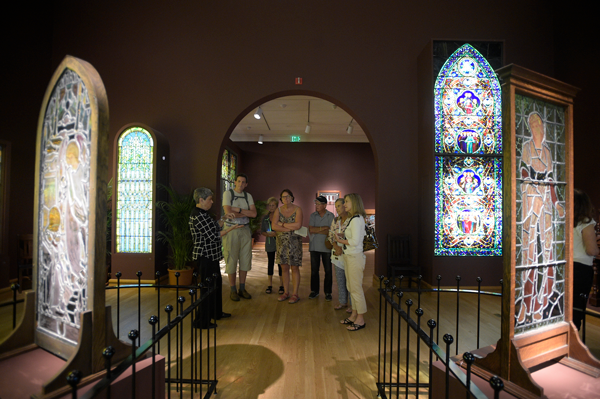 In February, the Morse celebrates its 75th anniversary, its legacy, and its continuing mission to make art a part of the lives of the people of its community.
Charles Hosmer Morse
Charles Hosmer Morse (1833–1921), in whose memory the Morse Museum was created, was the grandfather of Jeannette Genius McKean who founded the Museum and formed its collection with her husband, Hugh F. McKean. A distant relative of the famous inventor and painter Samuel F. B. Morse, Charles Hosmer Morse was the controlling partner in Fairbanks, Morse & Co. headquartered in Chicago.
He was born in 1833 in St. Johnsbury Center, Vermont and joined E. & T. Fairbanks & Co. in 1850 at the age of 17. In 1865, Mr. Morse established the first branch of the business that was to become known as Fairbanks, Morse & Co. During the next three decades, Mr. Morse transformed a company whose primary product was scales into a diversified manufacturing firm that supplied a wide variety of the machinery that fueled the dramatic industrial growth of America in the late 19th- and early 20th-centuries.
Presses, trucks, railroad cars, motors (including the internal combustion engine), and other machinery and machine components came from Fairbanks, Morse & Co., making Charles Hosmer Morse a man of great wealth and a major factor in the nation's development into a world power.
Like his counterparts of the period, Mr. Morse enjoyed a national perspective and invested over a wide spectrum. Having visited Winter Park, Florida, in the mid-1880s Mr. Morse selected this little town not only for investment but to become his winter home. Winter Park became his primary home following his retirement in 1915.
From the very beginning of his interest in Winter Park, Mr. Morse hoped future development would maintain the charm and grace he found in the town. In addition to insisting that the character of the town was more important than the profit to be made there, Mr. Morse quietly—and more often silently—set out to see his ideas realized.
He gave Winter Park its first town hall but adamantly refused to be acknowledged for it, even allowing credit to go to someone else. He donated Central Park to the town, but only so long as the town kept it a park. To this day, Central Park would revert to Mr. Morse's heirs if the town used the property in any way other than for a public park.
Mr. Morse helped organize the Winter Park Country Club and leased the land to the club for one dollar per year. He donated other land and buildings to a variety of civic organizations, usually charging some token price to avoid the public flurry that would have come with a full donation. Organizations as diverse as the Women's Christian Temperance Union, the Winter Park Woman's Club, and Rollins College benefited greatly from his philanthropy.
Beyond pure altruism, Mr. Morse's philanthropy had the very practical effect of ensuring the beauty, grace, and charm that Winter Park enjoys to this day. He died in Winter Park in 1921.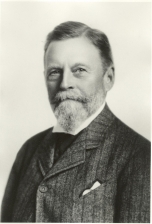 CHARLES HOSMER MORSE,


1833–1921
Hugh F. McKean
Hugh F. McKean (1908–95), who with his wife, Jeannette Genius McKean, built the internationally important Morse Museum collection, was an educator and an artist as well as a collector. President of Rollins College from 1951 to 1969, he was the director of the Morse Museum of American Art from its founding as the Morse Gallery of Art on the Rollins College campus in 1942 until his death in 1995.
Born in Beaver Falls, Pennsylvania, McKean moved with his family to Orlando as a boy. He earned his bachelor's degree from Rollins in 1930 and joined its faculty in 1932, later heading its art department. Continuing his education, he studied art at the Pennsylvania Academy of the Fine Arts in Philadelphia, Art Students League in New York City, the Ecole des Beaux-Arts at Fontainebleau in France, and Harvard University. In 1940, he received his master's degree from Williams College in Williamstown, Massachusetts.
As a young painter in 1930, McKean was selected by the Tiffany Foundation to join other artists at Laurelton Hall, the exquisite, art-filled mansion built by Louis Comfort Tiffany at Cold Spring Harbor, Long Island. The artists worked there independently, with gentle critiques from Tiffany, who often invited them to join him for evenings of organ music in the grand Fountain Court.
The experience was to etch an impression so vivid that a half century later McKean could write about Tiffany the man, his art, and his period with a sense of immediacy in The "Lost" Treasures of Louis Comfort Tiffany (Doubleday, 1980). By that time McKean and his wife had built a Tiffany collection considered to be the most comprehensive in the world, and he could draw from it to show virtually every medium Tiffany explored.
McKean led Rollins as president from 1951 to 1969, then served as chancellor until 1973, and chairman of the Rollins Board of Trustees from 1969 to 1975. In 1942, Jeannette McKean appointed him as director of the Morse Gallery of Art, which she founded in her grandfather's name on the Rollins campus. She and McKean were married in 1945.
Although his study of art was broad, McKean firmly believed throughout his life that art should be made accessible and understandable to everyone. As director, he wrote sensitive and often humorous labels to describe the work on exhibit at the Morse, sometimes shocking visitors accustomed to a more academic approach. But more often, his object labels delighted those who appreciated his refreshingly unique way of looking at art.
Outside of the Museum, the McKeans brought art to the Central Florida community in many imaginative ways. They started Christmas in the Park to bring music and art to families during the holiday season; they converted a van into the Morse Mobile Museum that travels to area schools without charge; and once, they staged a drive-by exhibit along Center Street in Winter Park to allow passengers to view Tiffany leaded-glass windows from their cars.
Hugh McKean's civic, educational, cultural, and philanthropic contributions to the community and the state were reflected in his honorary degrees and service on foundations and boards of trustees. In 1961 he received a Doctor of Humanities from Stetson University; in 1963 a Doctor of Space Education from Brevard Engineering School (now Florida Institute of Technology); in 1970 a Doctor of Laws from the University of Tampa; and in 1972 a Doctor of Fine Arts from Rollins College.
The McKeans' collection was built to allow others to enjoy and learn from art, and the couple always dreamed of a larger museum designed to exhibit it. While Hugh McKean did not live to see the 1995 opening of the new and expanded Morse Museum at 445 North Park Avenue, he was vitally involved in its design and its concept: to enrich the cultural life of the community and carry into the future the legacy of Charles Hosmer Morse and his granddaughter, Jeannette.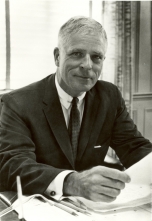 Jeannette Genius McKean
Jeannette Genius McKean (1909–89), the Museum's founder, was an accomplished artist, interior designer, businesswoman, civic leader, and philanthropist. A native of Chicago, Jeannette would eventually make her home in Winter Park, Florida, growing to love the town as her grandfather—industrialist Charles Hosmer Morse—had so many years before and continuing his generous tradition of philanthropy.
Jeannette grew up in the gracious Kenwood section of Chicago in the Richardson Romanesque-style mansion her grandfather had built and in 1912 gave to her mother as a birthday gift. It was richly detailed with stained-glass windows and carved mahogany cabinetry, and her artistic mother, Elizabeth Morse Genius (1872–1928), bought American Impressionist paintings, many in the Morse collection today, to hang on the walls. As with many wealthy families of the period, the Geniuses also collected Tiffany glass.
As a child, Jeannette visited Winter Park and had fond memories of Osceola Lodge, the home on Lake Osceola that her grandfather renovated and decorated in the Arts and Crafts style around 1905. It stands today a few blocks from the Morse Museum, exactly as it was when she visited in the early 1900s.
Jeannette was educated in private schools in Chicago, at Dana Hall in Wellesley, Massachusetts, and at Pine Manor Junior College in Chestnut Hill (later Wellesley). She studied art in New York at the Grand Central School of Art and Art Students League. Her teachers included abstract German painter Hans Hofmann, and a number of her early works reflect that influence. She continued painting throughout her life. Exhibitions of her work were held in New York and other such diverse venues as the Currier Museum of Art in Manchester, New Hampshire; the Butler Art Institute in Youngstown, Ohio; the Kunst Museum in Bern, Switzerland; the Royal Scottish Academy Galleries in Edinburgh, Scotland; and the Château de la Napoule in Mandelieu-la-Napoule, France.
While in New York, Jeannette worked as an interior designer. She was a longtime member of the American Society of Interior Designers, and she exhibited her art-inspired rooms from Palm Beach to New York. At the Morse, the interiors she built around the objects in the collection were known as vignettes. They are a tradition the Museum continues today.
Enrolling as a student in the 1926 summer session at Rollins, Jeannette began a lifelong interest in the Winter Park college. In 1936, at the age of 27, she was elected to her first three-year term on the Rollins College Board of Trustees, and then in 1942 she began 33 consecutive years of service as a trustee, retiring in 1975. During that time she quietly funded many college projects, including those to advance cultural and educational programs. In 1957, she created the Elizabeth Morse Genius Foundation to support her charitable concerns, including Rollins.
Jeannette founded the Morse Gallery of Art on the Rollins College campus in 1942 and named Hugh F. McKean, then a Rollins art professor, as its director. They married in 1945. Ten years later in 1955, she staged Works of Art by Louis Comfort Tiffany, an exhibition that was the first serious showing of Tiffany work since Tiffany's death. For decades Tiffany's creations had been looked upon as Victorian excess, but Jeannette, remembering the satiny, iridescent glass in her family home, still thought his work exceptionally elegant.
In 1957, the McKeans received word from one of Tiffany's twin daughters that his Long Island estate, Laurelton Hall, had burned. Upon their visit to the ruins, her husband remembered Jeannette's exact words at the scene of the devastation: "Let's buy everything that is left and try to save it." With that decision she was to create the nucleus of a collection that would grow into the most comprehensive collection of work by Louis Comfort Tiffany anywhere.
In addition to her service and benefactions to Rollins College and her careers as an artist and interior designer, Jeannette was a businesswoman. She was the president of the Winter Park Land Co., which controlled much of her grandfather's Winter Park holdings, and the founder and director of the Center Street Gallery. For all of her civic and cultural work on behalf of the community and state, she received many awards, among them the Florida governor's first annual Award for the Arts in 1973. In 2000, in celebration of the turn of the century, the state honored Jeannette as one of a select group of "Great Floridians."